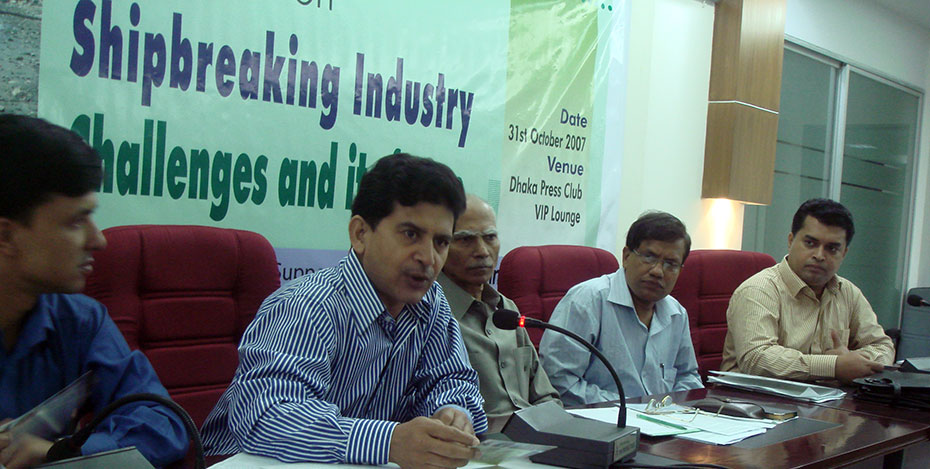 Duration: August 2003 to October 2008
Supporting organizations: Manusher Jonno Foundation.
Situation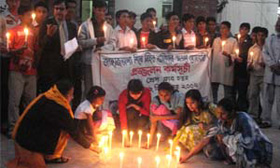 A severe cyclone in 1960 drove a Greek ship onto Sitakunda Upazilla's shores, and could not be refloated. In 1964 the ship was bought and scrapped by Chittagong Steel House. The shipping industry was born.
The ship breaking industry boomed in the 1980s. Developed countries such as United Kingdom , Taiwan , and Spain wanted to get rid of the industry since it did not comply with the new environmental protection standards. Bangladeshi industrialists took the opportunity to adopt ship breaking, as it raked in much profit. Today 52% of large ships are scrapped in Bangladesh .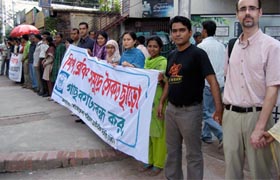 Today YPSA is working to improve public policies for a direct influence on 50 000 ship breaking workers. The problems of ship breaking are mostly related to the rights of the workers' rights, health and working environment. Examples include a lack of working conditions such as safety, hygiene, and protective gear. There is also a lack of appropriate policies and laws that will protect the workers from accidental deaths (e.g., one injury per day is common to the ship breaking yards), and environmental hazards (i.e., illnesses caused by exposure to toxins). In addition there are no emergency services, treatment or compensation for the workers.
Initiative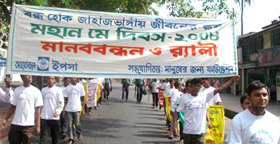 YPSA is the first non-governmental organization to address the basic rights and needs of ship breaking workers. They meet the challenge with the following primary activities:
1. Research
Research is an important component, as it helps gives concrete proof about the legal and real situation of all stakeholders' rights (i.e., workers, contractors, etc.). The subsequent documents have been published as a result:
Workers in Ship breaking Industries: A Baseline Survey of Chittagong ( Bangladesh )
Ship Breaking Activities and its Impact on the Coastal Zone of Chittagong , Bangladesh : Towards Sustainable Management' by Dr. Md. M. Maruf Hossain and Mohammad Mahmudul Islam
2. Sensitization and Awareness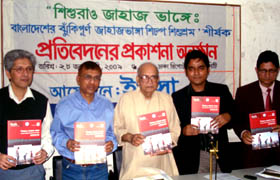 Since YPSA is the first NGO to work on ship breaking issues, it has the task of sensitizing the media and other stakeholders, (e.g., local and national government, political parties, ship breaking contractors, etc) and making them responsible to the worker's rights. YPSA does this by:
Building a rapport with all the stakeholders as well as the administration and policy makers (e.g., contractors)
Local and national awareness building through publications and campaigns (e.g., rallies, Human Rights Day, etc.)
Formation of forums such as the Ship breaking Watch Forum, Ship breaking Social Forum, and Students' Forum for Ship breaking
Building network, coalition and alliance with different groups and organizations
3. Mobilization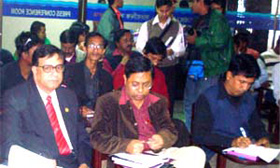 To mobilize the policy makers and society about the real challenges of the ship breaking industry, YPSA:
Educates shipyard workers on their rights and specific ship breaking policies
Organizes shipyard workers to act as pressure groups to initiate media and local government interest
Uses the Information, Education and Motivation (IEM) approach to make stakeholders more responsive and active towards worker's rights
Acts with the international community on ship breaking to create pressure on policy makers and ship breaking owners
Pressures policy makers to reformulate policies at the international and national level to formulate the policy
Strengthens existing forums, associations, professional bodies/groups to raise collective voices in favor of ship breaking policy (e.g., professors, students, ship breaking workers)
Outcomes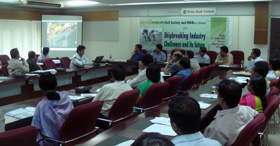 As a result of dedication and hard work from the Advocacy and Publication unit staff, ship breaking workers becoming aware of their basic labour rights. People are more aware of the locations where the shipyards are concentrated, and at the district level government officials have become more active. Policy makers have also started to be aware about the crisis. Specifically, Bangladesh 's Department of Environment and Shipping is in the process of making a guideline for ship breaking. Owners have even agreed to build a hospital for the workers.
There are still a lot of challenges to meet, but YPSA is further expanding their good relations with international organizations like GREENPEACE. For example, an international report was published jointly with GREENPEACE. YPSA also has membership to an NGO platform on ship breaking based in Brussels .
They continue to do in depth research about workers' problems and their rights, as well as bring national awareness to the issue. There is no official policy up to date, so YPSA must meet face obstacles such as getting legal aid for workers and their families, and acquiring a draft policy. To gain more public awareness, they would like to develop photography and video documentaries, as well as a website dedicated to ship breaking.