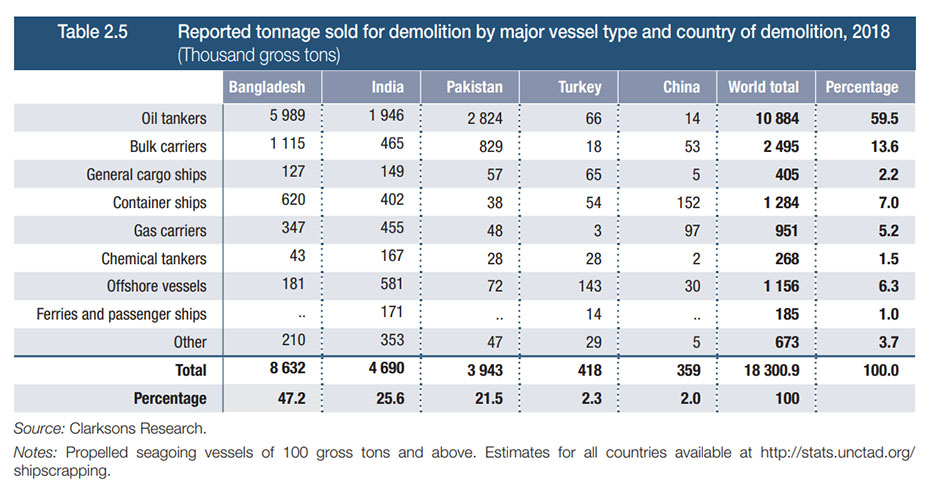 At present, the global center of the ship breaking and recycling industry is in South Asia, specifically Bangladesh, India, and Pakistan. These three countries account for 70–80 percent of the international recycling market for ocean-going vessels, with China and Turkey covering most of the remaining market. Only about 5 percent of global volume is scrapped outside these five countries.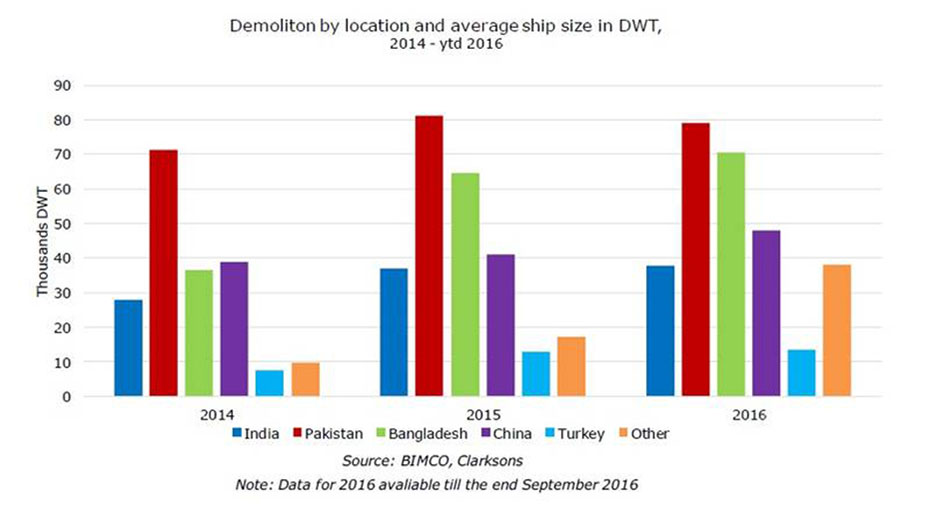 The five recycling countries share a common characteristic in having a large appetite for scrap steel. Bangladesh, Pakistan and to a large extent India use the steel from  recycled ships in mills where steel is rerolled so that it can be used directly, for  example in urban construction. It is understood that China and Turkey mostly melt the ship scrap. It is notable that Turkey, which is alleged to be the largest importer of scrap steel in the world, satisfies just 2% of its needs with scrap from its ship recycling industry. Equivalent figures for the contribution of steel from ship recycling to the steel production of the country, according to  the  World Bank, is 50% for Bangladesh and 15% for Pakistan, while the figure for India is understood to be between 5% and 6%.
China and India each command around 30% of the world"s recycling capacity, while Bangladesh"s capacity is around 25%. Pakistan and Turkey each command 9% and 2%, respectively. These capacity figures are based on an analysis by IMO covering the last ten years.
The fact that there is very little ship recycling activity in Europe is often explained in terms of the inability of Europe to compete with the low labour costs and low compliance costs of South Asia.
During 2012, 1309 vessels reported for disposal at total deadweight of about 61 mil tons. Ship owners scrapped a total of 1,119 ships over the course of 2013.
The ship breaking industry in South Asia has been under pressure because of alleged abuse of the environment and occupational health hazards. It is seen as a polluting industry that has adverse effects on the ecosystem and human lives, particularly the workers. Enforcement of regulations in the ship breaking industry is weak. Ship breaking activity is associated with dirty jobs, numerous deadly accidents, insecure labour, environmental injustice, and violation of human rights.
India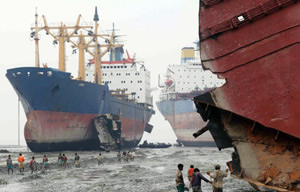 The ship breaking yard at Alang is located in the Saurashtra region of Gujarat off the Gulf of Cambay. It was set up in 1983 on a small scale along a 10-km stretch of sandy beach. The tidal, geographical, and climatic features make Alang an ideal ship breaking location.
The yards in Alang is famous in the shipbreaking industry. Located along the bank of the Arabian Ocean and concentrated around a coastal area named Alang of Vabhnagar, in the state of Gujarat, almost 3000 kilometers from Chittagong, Bangaldesh. The Alang shipbreaking yards started scrapping ships in 1983. Estimates vary, but it has maybe 160 potential plots for use as ship recycling facilities.
This place has the best continental shelf available for shipbreaking in the whole of Asia. At the same time, it is known for the highest tidal level (10 meters) in the country. The vast expanse of intertidal zone gets exposed during ebb (low) tide which makes it convenient for shipbreaking activity, whereas the high tide makes it possible to accommodate big ships. According to the Gujarat Maritime Board, a total of 415 ships were dismantled at the Alang facility, averaging 38.6 million tonnes of light ton displacement (LDT) against 28.2 million tonnes LDT in 2010-11
As many as 230 workers have died at Alang in the past decade in fires and other accidents, according to data from the Gujarat Maritime Board.
Pakistan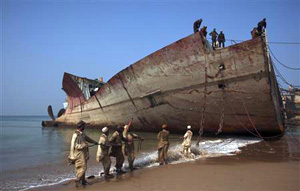 The Pakistani ship-breaking industry is for this very reason situated mainly in Gadani, Balochistan, about 50 kilometers away from Karachi. A 10 kilometers long beachfront here plays host to as many old and tired ships as need be, as long as said need is below 125 ships. In its hey-day, this yard provided direct employment to around 30,000 people and was the largest ship-breaking operation in the world. From 1969 to 1983, Gadani was in the prime of its life. In the 80's, it produced a million tonnes of scrap metal each year, thus fueling the Pakistani steel industry like nothing else.
During this time, the Pakistani government, for once, showed good business sense and did all it could to help the development of the industry. Infrastructure was developed, import duties were lessened, and the National Ship-Breakers' Association was given a voice. The effect of all this was a minor economic boom for the province of Balochistan, as the Balochistan Development Authority leased the Beachfront in Gadani out to the ship-breakers on a case-by-case basis and extracted revenue according to the tonnage of the ship being broken. This source of revenue for the impoverished province continues well into the present day, even after the operations at Gadani have slowed down significantly.
This slowing down started in the late 80s, as taxation and import duties grew and competition from yards in Bangladesh and India leeched off business. The deprecation went on till 2001, when the total scrap metal produced at the yard was a mere 160,000 tonnes, down from the millions of the previous decades.
Resurgence did come about at the start of the 2000s though, as taxation on ship-breaking was cut down to 10 per cent from 15 per cent. Growth has been noticeable over the last few years especially, with the 2009-2010 fiscal year being one of the most successful in recent history. A record 107 ships were broken during this year at Gadani, an all time high for the yard.
Turkey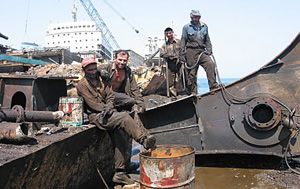 One of the major ship-breaking sites is in Aliaga, around 50 kilometres north of Izmir Turkey. The recycled steel from the Aliaga ship-breaking yards is an important component of the steel supply in Turkey, but only recently have the yards begun to care for environmental issues and occupational health. Up to 100 ships are scrapped every year in Turkey, which has so far failed to implement its ban on imports of hazardous waste. While with the 1995 Regulation to Control Hazardous Wastes, Turkey banned the import of hazardous waste.
Although Turkey is an Organization for Economic Cooperation and Development country, the environmental and working conditions are very similar to the ship-breaking countries in Asia. Ship-breaking in Aliaga began in mid 70's and officially in 1984 when the import of ship-for-scrap was allowed according to liberalization measures of that time.
423 thousand LDT dismantling operations had been engaged at Aliaga Ship Recycling in 2010 and it have reached 390 thousand LDT since January of 2011. As july of 2011 660 thousand tons of iron was obtained from 275 ship recycling operation in the region. Also Aliaga Ship Recycling Region started to dismantle of aircraft carriers for the first time of the facility's history.
China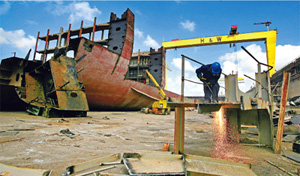 In China ships are broken in docks with cranes and machinery. But the working conditions are almost the same in ship-breaking yards as all over Asia, such as, insufficient protection.
In 2000, in an inspection of four Chinese ship-breaking yards it was found that workers were insufficiently protected against toxic and hazardous materials. Toxic waste was burnt in open fires. Asbestos was removed without proper protection for workers. The carcinogenic material was sold for reuse to industries producing heating systems. Yards were heavily polluted by oil, heavy metals and other toxic substances. Pollution had spread outside the yards as well.
USA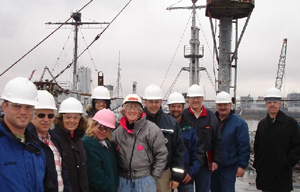 Ship recycling facilities in the US are subject to intense scrutiny by the US Environmental Protection Agency as well as MARAD (the US Maritime Administration), who are one of the industry's major clients. Operational yards in the US include: All Star Metals and Esco Marine, Inc in Texas; and Marine Metals, Inc and Bay Bridge Enterprises in Maryland. Yards in the US are understood to operate to very high standards. However, there is a price for this, and although costs have fallen – from a reported $253 per tonne in 2001, through the AbleUK project at $144 per tonne, to $79 in 2007 – it is still expensive. (U. S. Department of Transportation Maritime Administration, 2008.)
UK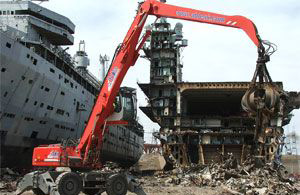 There are still some UK based companies who specialise in the dismantling of vessels, oil and gas platforms and other marine structures.
Able UK Limited, who operate a number of riverside facilities on both the Humber and Tees, recycle reclaimed scrap metals from the ship decommissioning with a large proportion of the product going for export. Now the company has taken delivery of a Liebherr A 934 C HD Litronic Industrial Rehandler for their ship recycling operations at the Teesside Environmental Reclamation and Recycling Centre at Able Seaton Port, Hartlepool.