On May day the Ship breaking workers demanded to stop threat to their life
Published by :
Admin
Posted on :
May 2, 2008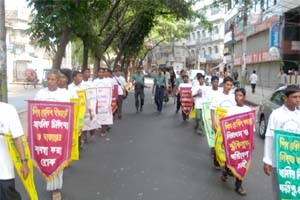 The Ship breaking workers observed May Day with a call to stop threat to their life in the ship breaking yards. They have arranged Human Chain and Rally demanding their basic rights along with along with the people from all walks of life. The have also demanded three basic things to be ensured. Those are: safety in the ship breaking yards, basic rights according to the existing legislation and environment friendly ship breaking . Besides that the workers also demanded about ensuring the compensation of the dead workers who recently killed after an accident occurred in the shipyard.
They made a big human chain in front of the Chittagong Press Club and started to walk, with banners and festoons, in all the main centers of Chittagong. YPSA has facilitated the whole program of the workers.
Muhamed Ali Shahin, officials of YPSA, said the ship breaking workers were working in the shipyards even on the May Day. Because there is no system of leave with pay. The only unwritten rule is no work, no pay. This indicates the ignorance of government and owners to the ship breaking workers.
Hope the ship breaking workers will get leave on next May day like other workers in different sectors.