Explosion killed another Shipbreaking worker after five days of the injury
Published by :
Ali Shahin
Posted on :
April 17, 2021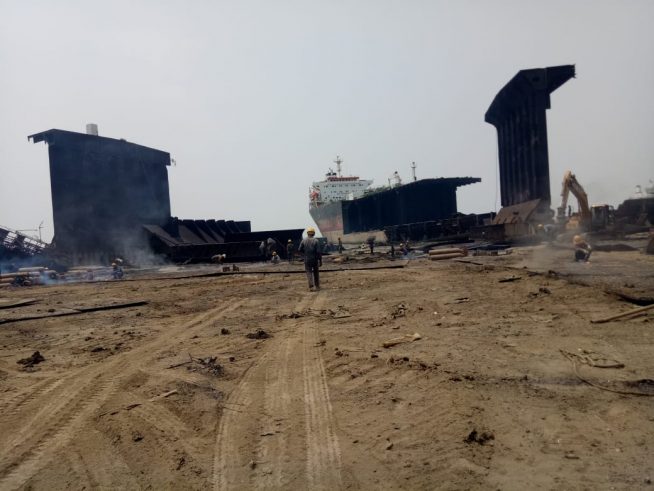 One of the severely burned workers, died today on 16th Aoril'2021, who had faced fire accident and suffered burn injuries in an explosion at Jamuna Shipbreakers in Chattogram's Sitakunda, while undergoing treatment at Sheikh Hasina National Burn Institute in Dhaka. The deceased was identified as Md Jihad (18), hailing from Sonaichori of Sitakunda upazila. The hospital confirmed about his death at 3.00 PM in the hospital.
The accident took place in the yard on April 11 and the eye witness confirmed that an explosion occurred at Jamuna Shipbreakers while cutting a coil pipe of a ship named MT Agros, a crude oil tanker, leaving three workers with burn injuries and Jihad is one of them. The injured were were admitted in the Chittagong Medical College Hospital (CMCH) earlier but the situation worsen they were shifted to Dhaka.
The local concerned department, DIFE (Department of Inspection for Factories and Establishments), of Ministry of Labour admitted about the accident. The other injured workers are Injured Md Pilot (22), Md Samad (40) who are now under treatment in the above mentioned hospital in Dhaka.
According to YPSA investigation, there was flammable liquid substances inside the pipe and the blast happened when the fire of flame for cutting the pipe touched with the liquid substances which injured those three workers and JIhad was one of them who died on 16th April, 2021.
Newspaper report: https://www.thedailystar.net/bangladesh/news/explosion-jamuna-shipbreaking-yard-ctg-3-workers-burnt-2075865